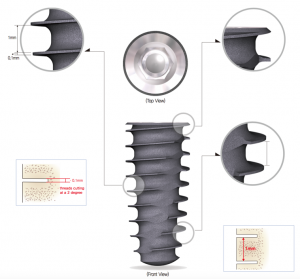 The Magic FC Features The Latest Advances in Implant Design.
Magic Fin Thread
Easier placement due to self-threading. Faster bone healing, no bone chips or pressure to the bone during placement.
Stress Distribution
Engineered to produce minimal shearing force in the alveolar bone. Reduces the difference of elasticity between fin threads and alveolar bone.
Platform Switching
Minimal inflammatory zone. Prevention of downward progress of peri-implantitis. Prevents marginal bone loss.
Thread Pitch
1.0 mm Engineered to maximize bone volume and minimize thread size. Transfers natural bone strength and stabilize the implant. Not self « tapping », but instead self « threading ».
The New Formula For Implant Success:
90% Bone + 10 % Titanium = The Magic « Fin » Thread
Engineered For Bone Friendly Performance
90% Bone 10% Titanium is the new formula for unprecedented implant performance. The fin is designed to flex with the same elasticity of the adjoining bone. This engineering principle of matching elasticity reduces bone trauma and micro-fractures. The fin thread introduces a new standard for initial stability and postoperative healing.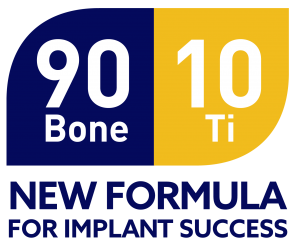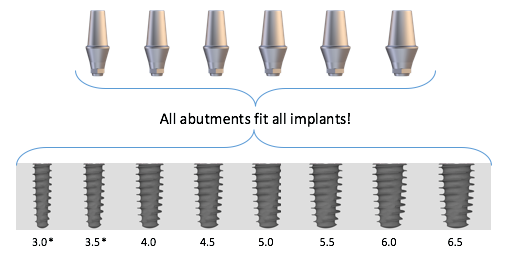 Platform Switching & Large Selection of Abutments
Since the same connection is used for all implants and all restorative parts. This provides tremendous restorative flexibility. The full complement of standard abutment types and sizes offer many standard abutment options (length, cuff height & diameter).
Internal Connection is Tapered with a Hex Base
We took the best performing connection and engineered it to safely support all our abutment sizes by using Grade 5 Titanium. Now proven design performance meets extra strength and delivers a huge variety of fixtures for each implant.